Description
Transform your kitchen into your favorite cafe and add a warm welcome! This beautifully designed Cappuccino Embellished Tailored Cottage Set will make the perfect kitchen curtains for your home! The valance with attached swaggers, as well as the tiers, feature cupcakes, cups of coffee, and milkshakes on white background and it's bordered by a rich maroon color. Made of 100% polyester, choosing this kitchen curtain set is choosing quality and durability. Polyester fabric is machine washable, it had excellent memory characteristics to retain its shape, non allergenic and doesn't promote bacteria growth. These curtains have strong fibers that won't wear down as quickly while being flexible and resistant to wrinkles and shrinking. Polyester is also hydrophobic, so your new curtains will dry quickly when wet. Durable fabric that feels good and looks great! They will serve as your beautiful curtains for the longest time! These sheer curtains will allow just the right amount of light to enter your home, while providing you with ample privacy. Adorn your windows with these beautiful curtains and add finesse to your home! Comes with 1 Valence with Attached Swaggers, 1 pair of tiers and 2 Tiebacks. COLOR: White-Brown. DIMENSIONS: 58x36 Inches.
Customer Reviews
Write a Review
Ask a Question
Kitchen curtain
Lovely great quality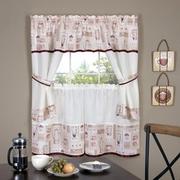 Payment & Security
Your payment information is processed securely. We do not store credit card details nor have access to your credit card information.
Free shipping in the USA over $75
Buy Now. Pay Later. With AfterPay
YOU CAN SHOP IN OUR STORES OR ONLINE
100% SAFE & SECURE CHECKOUT