Description
Whether you are cutting through bread or cheese, cutting ham or even carving a turkey, the Chef PRO Serrated Carving Electric Kitchen Knife Set With Wooden Storage Tray is the perfect kitchen tool to help you get meals ready with ease. Easy to use, you don't have to use much pressure to cut through meat. The powerful stainless steel blade moves so quickly that it will take much less time to carve the food. This electrical kitchen knife provides much more precision and accuracy compared to a traditional knife means it can make consistent and uniform slices without the use of a sawing motion or excessive pressure. It has a safety lock feature that keeps the blade in place to ensure your safety and to avoid injury. Comes with two stainless steel blades, a bread blade for bread, cheese, meatloaf, and cake loaves, and a carving blade for carving a turkey, chicken, ham, or roast. This knife can also be used for cutting or carving in some difficult fruits and vegetables like eggplants and squash or pineapple and melon. The set includes a hand crafted premium hardwood butcher block that can be stored flat inside a drawer or assembled for countertop storage. Just slide the black tab inside the slot found under the stand and place onto a flat surface. The portable electrical food knife also features an ergonomically designed handle to provide a comfortable handling and gives you better control no matter what you are cutting. It will always provide a safe and reliable experience. INCLUDES: (1) Electric Knife, (2) Cutting Blades, and (1) Wood Storage Stand. MATERIALS: Solid Wood Block, Plastic Appliance, Stainless Steel Blades. COLOR: White, with Wood. SIZE: 12.5x5x3.5 Inches.
Customer Reviews
Write a Review
Ask a Question
I purchased the carving knife
I purchased the carving knife for my sister and used it every opportunity. It's definitely one of hee favourite kitchen tools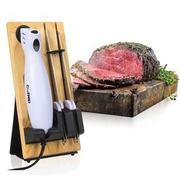 Payment & Security
Your payment information is processed securely. We do not store credit card details nor have access to your credit card information.
Free shipping in the USA over $75
Buy Now. Pay Later. With AfterPay
YOU CAN SHOP IN OUR STORES OR ONLINE
100% SAFE & SECURE CHECKOUT